---
5 Link Building Strategies to Focus on in 2018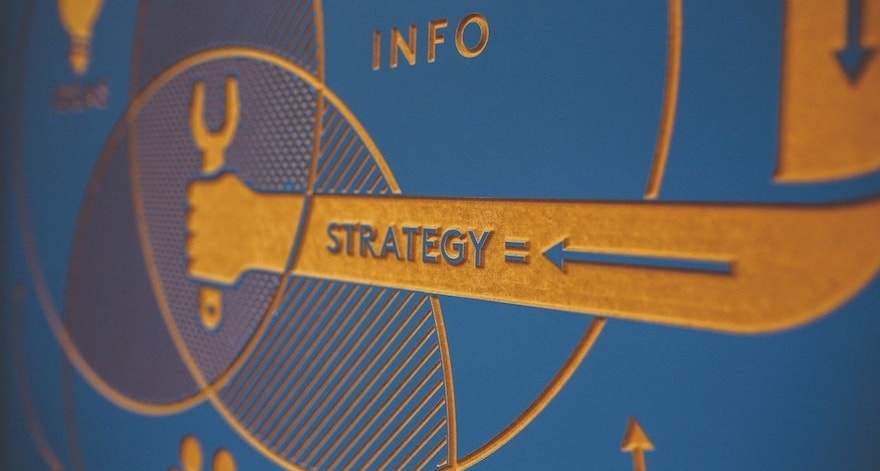 Link building is critical if you want to organically improve your website's rankings. We could spend time guessing what could be "the next big thing" in link building strategies.
Instead, I am going to show you the top five link building strategies that are currently effective and should work even better in 2018.
Check out the top strategies below and leave your comments in the comment section. The five killer link-building strategies are:
Internal Links
Citations and Brand Mentions
2018 Jacking
Blog Commenting
Guest Blogging
So let's get started.
Internal Links
Internal links are the most powerful link-building tactic you should use. Well-known websites are already using this strategy. For example, Wikipedia has strong internal links, and Wikipedia pages are in top positions for most generic terms.
What Are Internal Links and Why Are They Important?
Internal links take you from one page to another page within a website: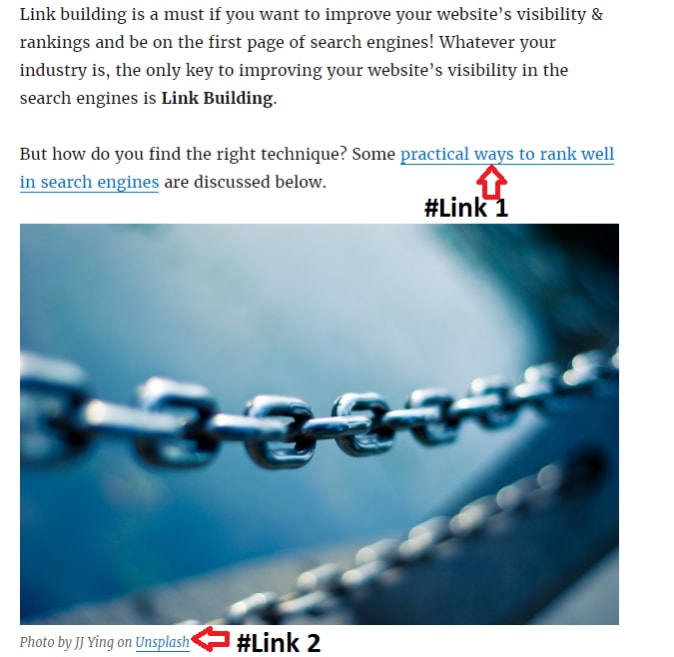 Image source: Advanced Web Ranking
In the above image, Link #1 is an internal link, i.e., a link from one page to another page within the website. Link #2 is an external link, which is a link to a page on a different domain. Link #2 takes you to Unsplash's site to give credit for the image.
There are four reasons why internal links are important for your website:
They help users to navigate websites.
Internal links spread link juice and help you to rank better in search engines.
Adding internal links boosts page views and improves usability through a call to action anchor text.
Smart internal linking helps search engine bots to easily crawl and index the deeper pages of the website.
Citations and Brand Mentions
We all know that building local citations is an essential building block in order to rank higher in the search results. Moreover, we all know how time-consuming it can be to create citations manually.
A local citation is the combination of the three terms nicknamed "NAP": name, address, and phone number.
Benefits of Local Citations
There are a number of benefits to local business citations when it comes to local SEO rankings. Local listings:
Can appear on the first page of local search results.
Give your qualified leads and help to improve your rankings.
Help you beat your local competition.
Improve your visibility on major local search results.
Increase traffic to your business.
With local citations, you can easily attract new customers.
To find local citations sources, you can head over to this comprehensive list of 160+ Business Listing Sites with High Domain Authority (DA)
You can also find city-specific and keyword-specific citation sources by using the following commands.
City-Specific Citations:
(city) business listings
(city) business directory
(city) directory
Keyword-Specific citations:
(keyword) business listings
(keyword) business directory
(keyword) directory
Brand Mentions
Brand mentions are the future of link building. Brand mentions are when someone refers to your product or services to others via his/her blog or website.
Google has made it clear, being mentioned by others is the only way to do SEO properly.
Head over to a nicely written post on How to Increase Your Rankings by Building Brand Mentions by Neil Patel.
2018 Jacking
Users always prefer to check the latest and most updated posts. So add the current year or add some call to action terms to your content titles. By doing so, you can maximize your chances of hitting the first page results in search engines.
Suppose we have two posts with the following titles:
"5 Link Building Strategies to Focus on in 2017"
"5 Link Building Strategies to Focus on in 2018"
It is obvious that users will give preference to the post with the most recent date in the title. Also, use the following phrases (call to action terms) in your post titles. Do not forget to add "2018."
Top
Discover
Free
Get
Try
Greatest
Fastest
Newest
Oldest
Most Expensive
Easiest
Unbelievable
Best
Blog Commenting
There are many ways to build links. Building links from blog comments is one of the easiest ways, but it is also very time-consuming.

To find quality blogs, you can use the following advanced Google operators:
"add new comment" + "your keyword here"
"Leave a comment" + "your keyword here"
"Leave a reply" + "your keyword here"
"post a comment" + "your keyword here"
"your keyword here" + "leave a comment"
"your keyword here" + "comment here"
"your keyword here" + "add comment"
"powered by WordPress" + "your keyword here"
"your keyword here" + "you may use these HTML tags and attributes"
"your keyword here" + "post a comment"
"notify me of follow-up comments "
"your keyword here" + "Notify me of new posts"
"Comments on this entry"
"sign in to comment on this entry"
"login or register to post comments"
"you must be registered and logged in to leave comments"
"this blog uses premium Comment Luv"
Head over to this post if you want to know more about how to do the blog comments in the right way: 11 Powerful Link Building Techniques to Gain the Most Engagement
Blog comment links are very effective, and some of the blog commenting benefits are:
Some blogs have a high domain authority (DA) score, and a high DA benefits your search engine ranking.
Even if a blog backlink is no-follow, the search engines will still find and index your website. More importantly, consistently commenting will improve visibility, establish credibility, and build your relationships with bloggers.
Guest Blogging
Guest blogging is one of the most powerful ways of driving quality traffic, building brand recognition, and getting exposure for your site.
I frequently pitch guest blogs on top sites such as SEMrush, Advanced Web Ranking, DZone, Template Monster, Upwork, SiteProNews, and YourStory. In fact, I get custom author profiles and backlinks to my site from all these sites.
The 5 Real Benefits of Guest Blogging

By doing guest blogs on high authority sites, you will get natural backlinks that will not hurt your website or blog.
Guest blogging is one of the major sources of quality traffic and increased exposure.
Building relationships is very important in digital marketing. Guest blogging helps you build strong relationships with your audience.
Guest blogs on top sites, such as  SEMrush and Template Monster, help you capture a broader audience.
Guest blogging helps you to discover better business opportunities.
Key Points to Consider When Guest Blogging
Do not waste your time on websites with low domain authority (DA).
Always consider websites that have a high social follower/following ratio.
Check out this List of 180 websites that accept guest posts.
Link Building Strategies: Conclusion
Link building is crucial to any SEO campaign. Thankfully, we can still rely on a few link-building techniques that will work in 2018.
I hope you will implement all of these link building strategies in the right way so that you will move ahead of your competitors.
What's your experience with these strategies? How have they helped your SEO? Share your views in the comments section.
This is a syndicated article from Grow map For You. See the original article here.
Recommended Posts
October 28, 2022
September 9, 2022
August 30, 2022