---
7 reasons Why You Should Hire a Professional Agency for your Startup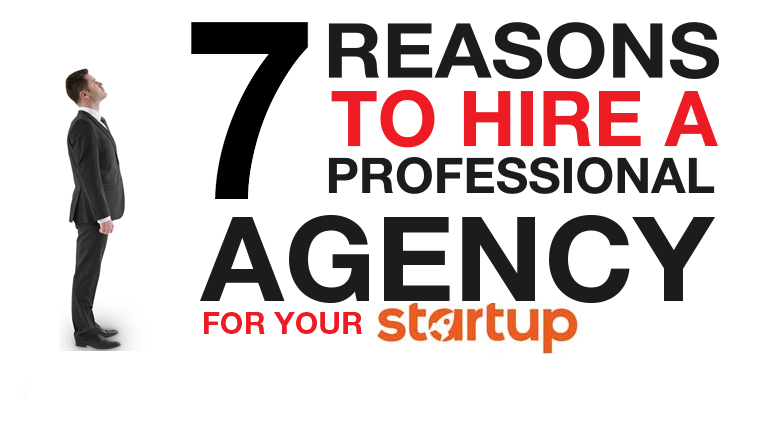 If you are a startup, then this question would be definitely on your mind why you should hire a professional agency and spend extra money on your Startup. You might be thinking that you can easily market your business products and services on your own instead of wasting money on an agency.
However, let me tell you that nine out of ten startups who fail to ignore the basic fact of hiring a professional agency. It can be even more difficult for a startup to ensure a good market for their business and products without having a well-resourced team.
Here are some signs that signal that it is the right time to hire a Professional agency:
Lack of Business Strategy
Sales are Stagnant
You'd Love to Hire a Complete Team, but Lack the Budget
If you have tried and failed before
If you have time management issues
You need fresh ideas to incorporate into your business
If this is the question in your mind that "Why hire an agency to develop your startup?"
The answer is simple – to improve your company's bottom line!
Here are a few reasons why an agency might be the best choice especially for a startup business:
Agencies Have Experience: Their experience means they have all the expertise you need
One of the most valuable benefits of working with the right agency is their guidance that can make the process easier according to your specific needs. An Experienced Agency has educated, well- trained and knowledgeable professionals under one roof, and they can tackle any type of situation calmly.
So when you hire an agency, you can easily incorporate all the required skills and knowledge into the business and facilitate the growth of the overall business.

When you hire professional Agencies you will Save money and free up your time

Running a startup business can be stressful hectic and chances are that you are busy with marketing decisions, have meetings, phone calls, and any other task related to your startups. By taking advantage of hiring a professional agency, you can make your life easier, more straightforward, less stressful and you can concentrate more on the other aspects of your startup business like seed funding and this also helps to improve your personal life by investing time in yourself and the family. The Agency and their ideas, enable you to grow business and also save money by hiring their professional services for a fixed interval.
Updated Strategy
The benefit of hiring a professional agency is that their team of professionals are well aware of the latest technology and are in sync with the prevailing market trends. They always know what they're doing and which ideal strategy to apply.
The agency has a wide range of clients with different domains and working on different domains allows them to have a clear vision of the best-suited strategies for specific domains. They know how to drive results and can provide the best options that your startup business requires.
Get The Best Return On Investment
Getting the best return on investment at the end of the year is a major concern for any startup business. Getting the best ROI depends on how your club the business goals with proper strategies for your startup, and without having knowledgeable professionals, it is not possible to overcome these obstacles and get the best ROI every year.
Help you achieve results fast
When you are handling your startup business at your own end, you most likely don't know what works and what doesn't – you are only guessing things. And due to this, you can make many mistakes and overall results produced may not be ideal and satisfactory.
Agencies specialize in digital techniques like web development, creative designs, database management, social media monitoring, content and influencer relations. They are aware of the ins and outs of every niche startup and how this complete scenario works.
Since the market keeps on changing every day with new techniques and strategies, the agencies keep themselves updated with the latest technology that is essential for every startup business owner and ensure that they are provided with the latest technology environment and support for their business. Due to this, you will achieve results fast.
Custom and Exclusive Support
As a startup business owner, you are likely to manage the business operations inefficient manner. The problem is when you don't have the time, are busy with business meetings, or no skill to take on technical support, you should consider hiring a professional agency for your startup.
A professional agency has adequate and qualified professionals support for your startup. They can support startups at every step of the way and can work with the client's specific requirements and current market trends.
The Agency can easily utilize the most advanced and appropriate techniques to render the services to accomplish the finest solutions according to your needs.
Process
Building a successful startup is difficult, and without a proper process, a startup can have less margins and less sales. A professional agency definitely helps to established process based on their experience. A typical process flow could go like this:
Strategy – In this, the strategy process is developed for the startup business which includes market research and marketing strategies.
Design – In this the planning, creation, and updating of websites begin and website structure, user interface, navigation structure finalizes.
Build – In this, a developer will bring its creative vision into reality by adding the content and functionality of the website.
Test – In this, a QA implements the test policy or the test strategy to a new site that includes Planning, Execution, and functionality on different browsers and devices.
Launch – This includes any release of a product or web services and moving to a live server.
Report – The last step is reporting which involves the disclosure of the site performance. This step is performed on a regular basis to improve the website's performance.
Few tips to Hire a Professional Agency for your Startup
When hiring an agency, you must find out what are their good stories, vision and company experience. You should be aware of the following points so that you can easily communicate them to the Agency you hire.
What is the cost per man-hour?
How do they prefer to communicate, by phone, email, etc.?
Do they speak English as a first language? (if your company's main language is English, of course)
How many other clients do they currently have?
How available are they to help you on short notice?
What are the steps they take to accomplish a given set of tasks?
What the qualification of the designer or developers in their company?
How large is the company?
Are they proficient in programming, Web development, and search engine optimization?
Wrapping up
If hiring a professional agency for your startup is something you're interested in, be sure to do your homework on the agency you select before you hire. Ask the right questions and chose the professional agency that is the right to hire for your business. Learn more about our work with startups here.
This is a syndicated article from YourStory. See the original article here
Recommended Posts
October 28, 2022
September 9, 2022
August 30, 2022